"People" magazine has put out its annual list of 'The 25 Most Intriguing People of the Year.' And you KNOW it has to be good, because if anyone is the authority on people . . . it's "People", right?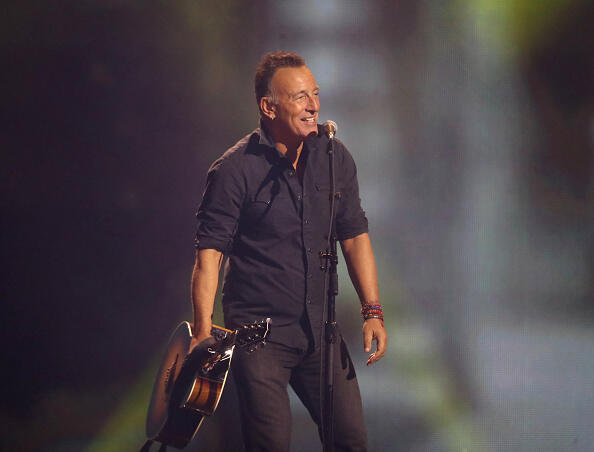 Here's the list, along with quick takes on why each one is intriguing.
1. Bruce Springsteen . . . because he's doing Broadway now.
2. Ariana Grande . . . because she matured from a donut-licking America-hater, to a woman who didn't back down after the terrifying Manchester terrorist attack.
3. Joanna and Chip Gaines . . . because they're ending their HGTV show "Fixer Upper" while on top.
4. Jordan Peele . . . because of the serious undertones in his movie "Get Out".
5. Nicole Kidman . . . because she's still at the top of her game, winning an Emmy for "Big Little Lies", and getting an Oscar nomination for "Lion".
6. Tiffany Haddish . . . who burst onto the scene thanks to "Girls Trip".
7. Colin Kaepernick . . . whose protest over racial injustice has picked up more momentum, despite all the controversy.
8. Blake Shelton . . . because he was named "People's" Sexiest Man Alive. Wait, so "People" finds Blake "intriguing" because THEY find him sexy? This is becoming a bit of a Russian nesting doll.
9. Kumail Nanjiani from "Silicon Valley" . . . because of his movie "The Big Sick", which he co-wrote with his wife about their courtship and her life-threatening illness.
10. Prince Harry and his fiancée Meghan Markle . . . because "People" is obsessed with the British Royals for some reason.
11. Gal Gadot . . . because "Wonder Woman" inspires women to be badass.
12. Elizabeth Moss . . . because she won an Emmy for her surprise Hulu hit "The Handmaid's Tale".
13. Julia Roberts . . . because she was named "People's" Most Beautiful Woman for a fifth time, which is a record . . . a meaningless record.
14. Tony Award-winning actor Ben Platt . . . because he's Tony Award-winning. You know him as the nerdy magician from the "Pitch Perfect" movies. His Tony award was for the musical "Dear Evan Hansen".
15. Joe Biden . . . because he decided NOT to run for President.
16. Kaia Gerber . . . whose modeling career is taking off. She's the 16-year-old daughter of Cindy Crawford.
17. Jimmy Kimmel . . . who's been taking on issues on his late-night show in a personal way . . . stuff like affordable health care and gun control.
18. The Property Brothers . . . because HGTV fanatics still can't get enough.
19. 'Pioneer Woman' Ree Drummond . . . because she's been "inspiring fans," apparently.
20. Rihanna . . . because of her 'Fenty' beauty line.
21. Carmen Yulin Cruz . . . The mayor of San Juan, who criticized the U.S.'s federal relief efforts after Hurricane Maria decimated Puerto Rico.
22. Cardi B . . . whose "Bodak Yellow" became a sensation on the Hot 100.
23. Sterling K. Brown . . . who became the first African-American actor in 19 years to win a Best Actor Emmy, for playing Randall on "This Is Us".
24. Katie Jacobs Stanton . . . because she's the Chief Marketing Officer of the genetic testing and cancer screening company Color Genomics, and an advocate for women in the tech world.
25. John McCain . . . who was diagnosed with brain cancer, and who's one of the few people in Congress who's been willing to vote in a bipartisan way.
(Via People)